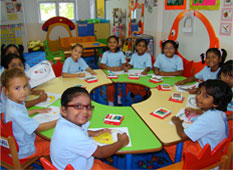 The Lale Youth Pre-School, founded in 2010, provides a safe and nurturing environment for children ages 3 years through 5 years old. We offer developmentally appropriate curriculum that actively engages each child in the learning process. The Children are encouraged to take advantage of every opportunity to play, explore, and learn in our exciting and stimulating classrooms.
Our education program is presented through a theme-based curriculum. Each theme incorporates a variety of learning experiences including opportunities for growth in literacy skills, mathematical concepts, and language development. The learning centers available in each classroom give the children the chance to further their learning through hands -on activities.
Although our curriculum involves development of the whole child, one of our main goals is to assist each child in their individual social and emotional development. Our program fosters the building of relationships with others and we provide opportunities for the children to strengthen their problem-solving skills, improve their communication skills, and establish long lasting friendships.
It is our aim to create a multicultural environment in which joyful learning will flourish. Children will possess the curiosity and confidence to explore, question, evaluate, create, and communicate. A partnership among parents, children and teachers will cultivate growth for each child and provide the foundation for them to become empathetic, and responsible global citizens.
Children thrive in a safe and nurturing environment which offers a balance of structure and freedom. Choices in learning experiences offer sufficient challenge, and a low degree of frustration. A multi-sensory environment appeals to varied learning styles and stimulates the multiple connections vital for deep understanding.
An interdisciplinary approach to learning connects children's learning with many facets of the world through every aspect of the curriculum. The process of learning is valued as children make their thinking visible. Children learn best by constructing their own understanding through inquiry, exploration and hands-on experiences that are relevant and connected to prior knowledge. To help children know themselves as learners, we provide time for frequent reflection, choice, and feedback.
Children flourish in a supportive environment in which the child, parent, and teacher create a partnership for learning. When parents and teachers cultivate the joy and excitement of learning in children, they are preparing them to be curious, confident, and self motivated learners. Educating parents to understand our early childhood philosophy creates a strong partnership for learning between home and school.