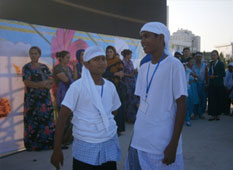 LYIS at the International Children's Festival in Turkmenistan On October 9th 2012, six grade six students, Nuham ,Varif, Haif ,Aiman ,Mahil and Rizwan represented the Maldives at theInternational Children's Festival in Turkmenistan. Lale's Deputy Principal, Mr. Mahdy acted as the leader of the Maldivian team.
The students performed the "Boduberu dance" and "Dhafinegun",two unique Maldivian cultural items. The participants also had the opportunity to visit the National Zoo and other places. Accordingto Mr. Mahdy,"Turkmen people are the most hospitable people I have ever seen."
The team left Male on October 6th and returned on October 14th .The students' parents received their children at Male airport with joyful faces.